ERMAK 30 ELITE PLUS WOOD BURNING SAUNA STOVE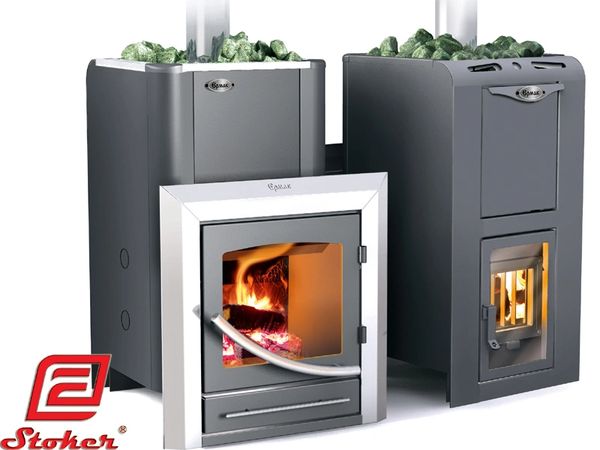 ERMAK 30 ELITE PLUS WOOD BURNING SAUNA STOVE
BACK TO ALL SAUNA STOVES
ERMAK 30 ELITE PLUS WOOD BURNING SAUNA STOVE (PANORAMIC GLASS/ADJUSTABLE TUNNEL/DUO)
            The furnace is designed for true lovers of Traditional sauna with steam-room capacity up to 1059 ft³. A volumetric heating of stones in a closed space provides a light and dry steam. There are additional options available- "Free Transformation".
Design features :
• 6mm construction steel fire-box;
• Depth of the burner up to 25.6'';
• Adjustable tunnel (6.7'' up to 10.6''), enlarged burner door with glass (21'' diagonal), self-cooling handle;
• Additional fireproof glass window in the back side; 
• Cast iron fire-grate;
• Spacious, vented and opened stove;
• Central location of the chimney, dual stream flue system; flues cleaning hole.
• Built-in steam generator.
            In ERMAK 30 ELITE PLUS model, material for the manufacture of burner chamber is steel of 6 mm (0.24'') thick, and for body frame and flues system is steel of 4 mm, lined up to 6 mm in places of greatest thermal loads is used. Compactness, rigidity of construction, developed heat transfer system are outlined in bath stove «Ermak» among analogues; it saves space in the steam room, eliminates the appearance of the product deformations during heating and ensures good power characteristics.
           Heat exchanger (Т) (not included, find it in "Accessories'') - option for heating of water in the system with remote tank or simply heating the adjacent rooms. The heat exchanger has an original construction that ensures high reliability and high quality of work. It is mounted on the left or right side of bath furnace. Hot water is formed in the heat exchanger and circulates by natural circulation, and a tank with capacity of up to 60l may be placed in an adjacent room (steam-bath washing compartment).
DESCRIPTION OF CONSTRUCTION ELEMENTS (FURNACE WORK SCHEME):
Pre-stove tunnel makes it possible to place the firebox door in an adjacent room for a comfortable use of the furnace. Rigid tunnel construction provides ease of installation and removal. The thermal gap between the tunnel body frame and the stove ensures safe operation and excludes overheating. Decorative frame is set on the tunnel that covers the gaps in the wall opening and forms the shape of the product in the interior of the steam-bath.

The tunnel

is adjustable and may vary in length in the range from 6.7'' to 10.6''.

Door with panoramic glass. Safety of operation is provided by self-cooled handle. Heat resistant glass of the door of Ermak Elite models allows the user to control the combustion process and enjoy the burning flames in the firebox.

Firebox is remote that along with the increased length up to 21.6'' provides a convenient fuel loading and long time of burning. Powdering of combustion products comes through the fire-grate.

The stove has ventilated operation mode and a traditional open-type structure. A large amount of stones is warmed up quickly due to expansion of the area of ​​heat transfer surface. Heat capacity and extra comfort may be got by hanging a grid-heater option on the back wall of the furnace.

Flues system is designed so that the fuel is burning with a maximum heat output and providing high-quality outlet of flue gases into the atmosphere.

Ash-pan has the control function ensuring air flow getting into the stove; the service operations in removal of combustion products that are spilled through the fire-grate are performed through it.

 Screen-convector creates an optimal convective flow of heated air and protects the consumer from high infrared radiation.

Built-in steam generator provides a light and dry steam.
            The materials used in the manufacture of furnaces provide reliability, environmental friendliness and safety. Modern technologies of cutting, bending, welding and metal shaping are used in manufacture.
What is in the box:
ERMAK 30 ELITE PLUS (27.5''x23.6''x35.4'') 225lb;

Adapter for chimney pipes (5.1''x6'');
Additional shipping charges may apply for orders from Alaska or Canada.